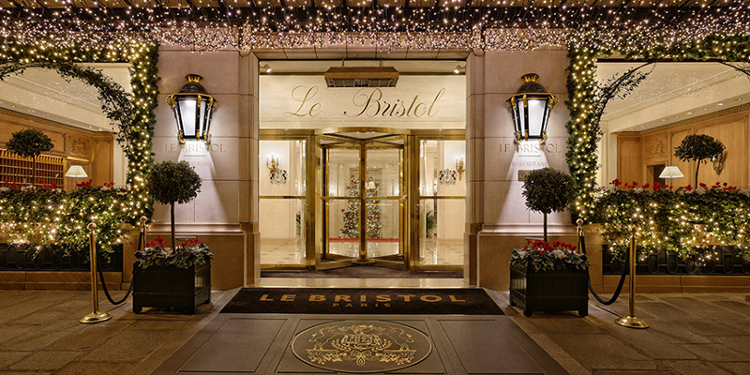 Celebrating Christmas and New Year's Eve in Paris: best hotel parties
What are you up to this festive season? Celebrating Christmas in a cozy atmosphere with your family? Or having a raucous booze-up with your friends? Or, maybe, even spending a romantic evening with your fiancée in a hotel room with views on the Eiffel Tower? In any ways, a New Year's Eve or Christmas in Paris is something that'll become one of the most precious memories in your whole life. And a well-organized party or dinner with suitable ambience is the main key to your holidays' success. Numerous Paris hotels are hosting festive dinners to mark the end of the year. So, if you're used to luxurious treatment, our list of the best festive events at Paris hotels will certainly be useful.
Best Christmas and New Year's Eve parties at Paris hotels
Holiday Season at Le Royal Monceau 5*. Festive dinners from €235
There is one way to spend your Christmas in a fairy atmosphere: to spend it at Le Royal Monceau, the "palace"-designated property minutes from the Champs-Elysees and Arc de Triomphe. There are many things that the design masterpiece by Philippe Starck will impress us with this season. Firstly, it's the stunning Christmas tree by Sylvie Marechal with Limoges porcelain features that decorates the building. The Christmas/ New Year's Eve celebrations at the hotel will be mainly focused on haute cuisine dining. Each of the hotel's Michelin-starred restaurants (La Cuisine and Il Carpaccio) will provide special menus for their gala dinners. As for the Christmas Day (25 December) and the first day of the New Year (1 January), spend it at the Royal Brunch at La Cuisine. The restaurant will serve an impressive selection of international and French dishes on the day. The ultimate gourmands can also order one of the 100 "Ruby" Buche de Noel desserts. That's chef Laurent Andre's creative take on traditional Christmas log.
So, what's waiting for you at Le Royal Monceau this holiday season:
-          Royal atmosphere and a super convenient location minutes from Champs-Elysees
-          Two Michelin-starred restaurants on-site: La Cuisine and Il Carpaccio. The latter is the only Italian restaurant in Paris that have been included in the guide
-          Spa My Blend by Clarins – a paradise of relaxation and beauty
-          A 99-seat cinema, an art gallery, art bookstore and pieces of art hanging all around the hotel
-          Special Christmas/New Year's Eve and Christmas/ New Year's Day menus at the hotel's restaurants
-          A stunning Christmas tree decorated with Limoges porcelain
The magic of the New Year at Hotel du Louvre 5*. Accommodation from €540
There is another way to immerse into the atmosphere of magic in Paris this season. But this time, you'll be stunned with the power of real magic, not just posh surroundings. Hotel Du Louvre, a Hyatt property, invites you to the New Year's Eve dinner with a special guest – the renowned magician Stefan Leyshon. Leyshon will perform the tricks invented by Jean-Eugene Robert-Houdin, the master of contemporary conjuring. Guests are also welcome to savour delicious dishes as part of the gala menu at Brasserie du Louvre. You can also enjoy cocktails and atmospheric music at the cozy Bar, known for its lively Jazz evenings held throughout the year. For those tired of the fuss of typical luxurious hotels, Hotel du Louvre could be a perfect alternative.
Several reasons to choose the hotel for Christmas celebrations:
-          Location steps from numerous sights: the Louvre, Opera Garnier, Place Vendome and the Tuileries Garden are all at your doorsteps
-          Traditional brasserie with views on the Comedie Francaise and a bar that hosts Jazz evenings found on-site
-          Traditional New Year's Eve dinner at the Brasserie or a cozy evening with music and cocktails
-          The magic conjuring show by Stefan Leyshon will take place at the hotel on the New Year's Eve
Festive Season at Le Meurice 5*. Accommodation from €935 for a Superior room
The Festive Season has already arrived at Dorchester hotels around the world. So it's time to celebrate! The chain's two Parisian gems, Le Meurice and Plaza Athénée, will mark the season with a number of initiatives and events, starting from special offers and finishing with holiday celebrations. For example, the ones who arrive to Paris with their families can enjoy a 50% discount for a second room at Le Meurice. Kids and grown-ups alike will definitely feel on top of the world during the Christmas Tea Time at Restaurant Le Dali, the one that the surrealist genius often visited. Try delicious hot drinks, chestnut cookies, mendicants, cakes and other pastries for €58 per person. Even the hotel's Spa Valmont has prepared some winter treatments to set your mood for joyous celebrations. Not to speak of the special festive dining at the hotel's restaurant, Le Meurice by Alain Ducasse (a 10-course dinner offered) and restaurant Le Dali that'll serve creative Dali Yule log.

Looking for even more original ways to celebrate Christmas in Paris? Drop in Le Meurice's sister property, Plaza Athénée, that has set up its own ice skating rink for its guests. The rink is open until January 30th.
Le Meurice's most exceptional features are:
-          One of the most elegant hotels in the world with views on the Tuileries Garden and Philippe Starck-designed interiors
-          The hotel's dining is overseen by the Michelin-starred chef Alain Ducasse
-          Salvador Dali was one of the hotel's regular visitors. Meurice's restaurant is named after the artist and boasts a spectacular mural by Ara Starck
-          Special Christmas/New Year menus at the hotel's restaurants
-          Delicious Christmas tea with pastries at Le Dali
-          Special discounts for families
Festive programme at L'Hôtel du Collectionneur 5*. Christmas Eve Menu for €120
L'Hôtel du Collectionneur might seem a new name on Paris hotel map. But in fact, you are certainly familiar with the property by its former name – Hilton Arc De Triomphe. Even after the hotel left the prestigious brand, its grandeur is kept on the same level. Location opposite the magnificent Parc Monceau, the refined atmosphere of the 1930s, charming park and terraces form a perfect setting for tranquil Christmas celebrations. The focus of this festive season is, of course, cuisine. Traditional lunches and tea-time with mouth-watering delicacies, delicious pastries for kids, gourmet Champagne bar, festive brunches and of course festive Christmas Eve menu are in the hotel's holiday programme for 2014. The hotel's centerpiece until March 2015 is the giant bubble bar in the patio.

On the New Year's Eve, L'Hôtel du Collectionneur invites you to its Gala dinner. Organised at the Normandie ballroom, it features music, a glass of moët & chandon grand vintage 2006 and delicious dishes to complete the day.
Why spend your holidays at the hotel:
-          Perfect location opposite Parc Monceau
-          A charming garden and a patio perfect for a pleasant evening with your family or the one you love
-          The giant bubble bar in the patio – an unusual spot for your hang-outs
-          A vast choice of culinary offers, dinners, lunch times and brunches for everyone
-          It's time to make something good this season. The hotel donates half of the money received from the sales of its French pastry "Galette des Rois" to children from the association «Les Rois du Monde»
The Christmas spirit at Le Bristol 5*. New Year's Eve menus from €400
It would be so surprising if the Parisian jewel, Le Bristol, didn't offer us something special for this holiday season. And trust us, this oasis of courtesy and comfort in the heart of fashion district has lots of things to propitiate us with. The hotel has put on its festive attire and launched special Christmas menus for this holiday season. You can choose among the Christmas teatime with hot chocolate drinks and afternoon pastries, special Christmas menus by Eric Frenchon at restaurants Epicure and 114 Faubourg, and a gastronomic New Year's Eve at Epicure. If the New Year's Eve means nothing to you without a loud party, then you're invited to Le Bar du Bristol's New Year bash with a DJ set (from 11 pm till 5 am).
What makes Le Bristol so special is:
-          Rich history that counts 250 years from the building's foundation
-          The first hotel in France to officially get the "Palace" designation
-          The 3 Michelin-starred restaurant Epicure recently received the Daily Meal award for the "Best Hotel Restaurant in the World"
-          Special attention on kids' needs: kids' programmes, kids club, menus, gifts and even pet friends Fa-raon and Kleopatre that look after the hotel's little guests
-          Christmas and New Year's menus at the hotel's restaurants Epicure and 11 Faubourg
-          The night of fun with DJ sets and drinks at Le Bar du Bristol