Top 7 most centrally located hotels in Amsterdam
Most people that go to another city with a cultural programme in mind prefer staying in the city centre as it makes sightseeing more convenient. When we speak about Amsterdam, its heart beats at the intersection of the Damrak and the Rokin, at the Dam Square. There are many things to see here, such as the Royal Palace, Madame Tussaud's Wax Museum and the National Monument. We suggest you the list of the best and most prestigious hotels located close to the Dam Square in Amsterdam.
NH Grand Hotel Krasnapolsky. From €148
Grand Hotel Krasnapolsky must be your first stop in Amsterdam if you prefer the most central location since it is situated right on the Dam Square. Your cultural trip around the city is so easy if you start it from here: the Royal Palace, Anne Frank House and Van Gogh Museum are within a walking distance. The National Monument is right below your windows. The hotel itself is located in a beautiful historic building that dates back to the 19th century, still, inside it is sleek and modern. Enjoy breakfast at the hotel's stunning Winter Garden and take advantage of the hotel deals that will help you save considerable amounts.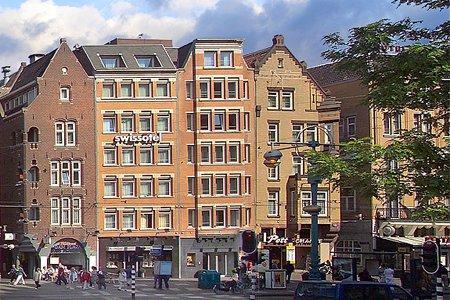 Swissotel Amsterdam. From €149
Our next choice is Swissotel Amsterdam, which is also located in a historic building right on the Dam Square. You can have meals at the hotel restaurant, which has positive reviews, or go outside and enjoy your time at one of the many restaurants nearby. The hotel also has a pleasant terrace from which you can watch the busy life on the Dam Square. Moreover, it features an outstanding fitness facility and well-equipped business centre. Swissotel positions itself as a boutique hotel, so we expect it will impress us with curious design features.
Sofitel The Grand Amsterdam. From €270
This hotel is located in a distance from the Square and the price is higher than that at other hotels, however, if you are looking for luxury and quietness, you cannot find a better place to stay at. Situated on a peaceful street overlooking the canal, in a short walking distance from the central square and the Centraal Station, Sofitel the Grand used to be the favorite spot for celebrities since 1578. The hotel has many advantages that will make you desire it as your place of accommodation: luxury and comfort of its rooms, friendliness of its staff and delicious food at its restaurant, rather expensive though.
Die Port Van Cleve. From €143
Die Port Van Cleve is a good choice for those who want to immense into the spirit of Amsterdam and its classic style. Located right behind the Royal Palace in a historic building with an impressive façade, it features nicely disappointed rooms in Dutch style. Some noted that rooms need renovation though. Look into the hotel's restaurant and bar to extend your impression. All in all, this is not a five star hotel, however, a wonderful choice if you need something simple, and a good value for money as well.
The Convent Hotel Amsterdam. From €167
The Convent is a part of Accor's MGallery collection, with each member having some unique features. What makes the hotel so special is not only its location in a 5 minute walk from the Dam Square, but also its history: according to the hotel site, the building once housed two monasteries dating back to the 13th and 14th centuries. Spotlessly clean and tastefully decorated rooms, great service and delicious buffet breakfast. The latter is rather expensive so choose the nearby restaurants and cafes for your meals.
Crowne Plaza Amsterdam City Centre. From €143
The Centraal Station and the Dam Square are just within a five minute walk from this 4-star hotel, which houses two 17th century buildings. There are many positive features that the hotel guests mentioned, including the helpful and friendly staff, spacious rooms with small terraces from which one can enjoy views over the city and reasonable prices at the hotel restaurant. Note they charge for the internet connection.
Park Plaza Victoria Amsterdam. From €199
Park Plaza hotel is located on the main city street, Damrak, and this fact speaks for itself. You are literally in front of the Centraal Station and some 10 minutes' walk from the main attractions. To cut the story short, the perfect place for those who come to Amsterdam for the first time. The hotel itself is set in a historic building with modern interiors. Again, breakfast is overpriced and the internet connection is rather slow.
To sum it up, most centrally located Amsterdam hotels offer accommodation for reasonable prices that are less than €200. Rates depend on room types, of course. However, if you need extra luxury, you can choose Sofitel hotel that boasts both great location and upscale service. But this will cost you no less than €270.