Best value hotels in Amsterdam
Some book hotels to enjoy the best and most sumptuous service, others have two simple demands from the places they stay at: their comfortable bed and their tasty breakfast. But even if you are one of the second type of tourists, why not choose the best of the cheapest? Even though inexpensive hotels don't have any special facilities, they can still provide you with an excellent clean and comfortable room combined with friendly service. Let's observe the inexpensive Amsterdam hotel offers.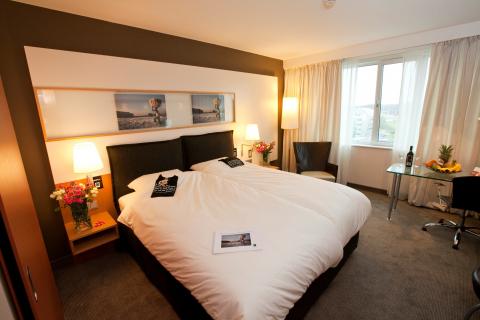 Hem Hotel Amsterdam. From €48
Hem hotel will attract some with its name in the first place (we all know what many people come to Amsterdam for, don't we?). But be sure that for the amount you pay you really get one of the best accommodation offers in Amsterdam. The hotel is well located just a 5 minute walk from the Hermitage and some 15 minutes' from the famous Rijksmuseum. World Fashion Centre and World Trade Centre also make it a good choice for business people. You will be pleased with such offers like the free WiFi, bar/lounge and airport shuttle service (for a fee). It's not spotlessly clean, however, nothing terrible is found here, and the Indian room on the first floor impressed many with its lovely décor. The only drawback about the hotel is its staircase – absolutely unsuitable for people with disabilities.
Ibis Amsterdam City West. From €59
Ibis Amsterdam City West is a member of the international economy class brand and therefore provides you with everything you are used to see at other ibis hotels: simple but comfortable rooms, good service, clean interiors, a restaurant and a bar. Note it is located a bit away from the city centre so you will have to make a 10 minute bus ride to enjoy the main city attractions. All in all, it's a proper variant for those who don't need surprises. Some will like the Burger King at the foot of the hotel. This might be a good alternative for your breakfast as the breakfast served at the ibis is rather expensive and not too good.
Lloyd Hotel and Cultural Embassy. From €114
Lloyd hotel guarantees that you will remember your stay in Amsterdam as an enriching cultural experience. Some guests state that its rooms are rather overrated – perhaps true, but what you should choose the hotel for is its artistic and humorous approach. It's always good to discover something curious at different hotel spaces. And to add a cultural touch to your stay, enjoy one of the artistic events organized on the hotel's territory, visit its library and see the art behind the hotel walls.

Westcord Art Hotel Amsterdam. From €69
There are two Art hotels in Amsterdam standing next to each other, and if you need a higher level choose the 4-star hotel, or book a 3-star Art hotel for cheaper accommodation. Both have a good quiet location in a short bus ride from the city centre, and both are designed with art in mind: there are paintings by the Dutch artist Herman Brood decorating public spaces while rooms are adorned with paintings above the beds. The hotel we offer you is a standard three star property with a brasserie, restaurant, meeting rooms and free WiFi. You may also be pleased to know that the hotel has a Green Key designation.
Eden Hotel Amsterdam. From €88
Great location is what you should choose Eden Hotel Amsterdam for. Situated right in the city centre, next to the Rembrandt Square, it is close to the main sights as well as nightclubs, restaurants and shopping. The prices might be a bit higher than those at the other 3 star hotels, however, its value if you consider location cannot be beaten. You are also welcomed to several rooms with great views on the Amstel river. On the whole, this is a stylish clean and modern hotel for a moderate price. Rooms are rather spacious, however, one disadvantage is the lack of free internet, so if you need connection with the rest of the world, you will have to go down to the hotel lobby.
Luxer Hotel. From €89
This is another greatly located place to stay at, though it's not a proper hotel for families due to its proximity to the Red Light district as well as coffee shops and sex shops. Still, you find yourself in the city centre and close to many sights, or in the walking distance from them. Rooms are on the smaller side, but cozy and spotlessly clean as the hotel has recently been refurbished. The list of hotel amenities includes free internet and breakfast area. Note that Luxer is 100% non smoking. To be short, this is not the cheapest variant of accommodation you can find, but its location makes up for the price. Choose a prepay rate to save some money.
On the whole, there are many variants of inexpensive accommodation in Amsterdam, some are really close to the city centre (Eden Hotel Amsterdam and Luxer Hotel), but these will cost you slightly more than the others: around €90. We have chosen Hem Hotel as the best value hotel (less than €50), however, other properties are not much more expensive: for instance, you could stay at the internationally branded Ibis or the artistic Westcord hotel, both for less than €70. Lloyd hotel is the most expensive variant we can offer, but it is really a must for those looking for an unforgettable experience.