Best February deals at Amsterdam hotels
February is perhaps not the most popular time to visit Amsterdam as the weather might be not very welcoming. However, the city hotels do a lot to attract guests with special deals and promotions that will make a trip to Amsterdam a bit more desirable. We give you a shortlist of some special rates and deals offered at Amsterdam hotels this month.
Kids Eat for Free at Marriott Amsterdam. Rates from €229.
We start with rather a simple offer – the one for families. Traveling with your family may be pricy as you have to pay for several people at a time. Marriott Amsterdam helps you save some money with this "Kids Eat for Free" offer that includes Deluxe accommodation, breakfast for two adults and two children under 12, free lunch and dinner for two children under 12 when accompanied by an adult. Make sure you use the promotional code from the hotel's site.
Hot deals at Best Western Blue Square Hotel. Rates from €69.
Do not miss this month' hot deals available at the 4-star Best Western Blue Square hotel. Depending on the room type, your accommodation could cost you €69 instead of €200 for a single or a twin room, or €110 instead of €300 for a triple room. A good deal it is, if you consider the hotel star rating and the positive reviews from its guests (it is Tripadvisor's Travelers' Choice 2013 Winner).
Advance Saver Rate at Crowne Plaza Amsterdam City Centre. Rates from €163.
Like many worldwide hotels, Crowne Plaza in Amsterdam takes care of its guests who love to plan everything beforehand and are ready to prepay their stay. That is why you could save some bucks when booking your room in advance. Rates include breakfast and of course full prepayment is needed and your payment is non refundable. But wait; there is more news about this hotel. As a member of the InterContinental Hotels Group, it participates in the "Best price guarantee or your first night is free" promise, which means that whenever you find a rate at IHG hotel lower than that on the company's website, you get your first night free. Check the site for details.
Discounts for longer stays at Die Port Van Cleve. Rates from €160
Die Port Van Cleve is a charming historic 4-star hotel which boasts great location in the centre of Amsterdam, right behind the Royal Palace. So, you will probably want to spend more than one night at this old-style but attractive refuge. If you do, the hotel offers some discounts for longer stays. Thus, you get a 10% discount when booking two nights, 15% discount for three nights and a 20% discount for a 4-night stay. Also, if you appreciate breakfast right at the hotel, you could use it's Breakfast special and pay €12,50 instead of €19. Just prebook your breakfast.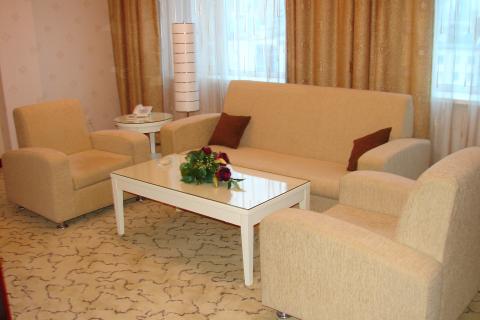 Discounts for longer stays and advance booking at Falcon Plaza. Rates from €64
Falcon Plaza is a three-star property which means your accommodation at this hotel will be a bit cheaper than if you book a room at its higher-starred sister. However, the hotel aims to attract you with even lower prices and for this, it offers some promotions. First, the longer you stay, the bigger discount you get: 15% for two nights and 20% for three nights, in case you make the reservation at the hotel's own site. Plus to this, you could save additional 10% when booking your room at least 21 days in advance. Here are some facts that will helps you make up your mind and choose Falcon Plaza: the hotel has a good location close to the Central Station and Dam Square and just a 5 minute walk from Waterlooplein, it offers Wi-Fi for free and has a parking facility on site. Not bad for those who don't need much.
Stay 3, pay 2 at Grand Hotel Amrath. Rates from €498
Hotel Amrath is a highly rated hotel that is praised by its guests for outstanding design, location in a historic building, great views over the canals and of course excellent 5-star service. The hotel's Art Deco style and décor make tourists drop in to take some pictures whereas the romantic souls choose this place for their honeymoons and romantic nights. It comes as no surprise that rates at the hotel may be too high for some. However, if you are not withdrawed with the prices, you are rewarded with special offers like this one. "Stay 3, pay 2" offer means you can stay three nights and pay for two nights only. This rate also includes buffet breakfast, Wi-Fi, minibar and an entrance to the hotel's wellness centre.
40% discounts at Mercure Hotel Amsterdam City. Rates from €79
As a member of Accor group, Mercure hotel offers deals that can be found at hotels throughout the chain worldwide. This season you could make some efforts searching best deals and be awarded with up to 40% discounts for your accommodation. Taking into consideration the hotel class and its location which allows you to get to the city centre in just 15 minutes, this deal is a very pleasant addition to your stay. The hotel also offers free parking on Friday and Saturday nights.
In conclusion, there are various great offers available at Amsterdam hotels this season. If you prefer luxurious accommodation but like saving some dollars, choose the deal at Grand Hotel Amrath (rates from over €450). The deal at Mercure could reduce your accommodation price by 40%. For accommodation for more than €200, choose special offers at Crowne Plaza or Die Port Van Cleve. Even lower rates, less than €100, can be found at Best Western and Falcon Plaza.