Events not to be missed in Amsterdam this winter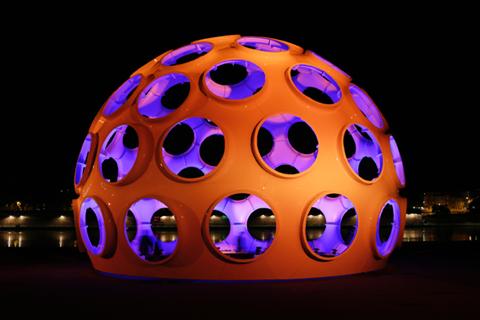 If you're visiting Amsterdam in winter, you've got a lot more things to do than just hanging around at the Christmas markets and partying on the New Year's Day. Every month has something to offer to Amsterdam guests, and if you browse through the events calendar for winter 2014, you'll definitely find something to your liking. Amsterdam Light Festival, Fashion Week, a choice of romantic things to do on St. Valentine's... We've prepared a shortlist of the most exciting winter events in Amsterdam that'll help you make up your mind about the travel dates faster.

Best Amsterdam winter events
Amsterdam Light Festival
The Light Festival is with no doubt the number one event in Amsterdam this winter. Taking place December 6th 2013 – January 19th, 2014, it changes the look of the city with its 30 art installations and sculptures by the international artists. These temporary pieces of art are displayed all around the center, that's why every city guest has a chance to visit this outdoor exhibition for free. You can observe the sculptures from water, by taking part in the Water Colors boat tour, or by foot, following the walking route Illuminade. Besides, several light sculptures are displayed directly in front of hotels. For more information, see our "Christmas tree at your doorsteps" article.
Hotels next to the Light Festival artworks:
Ice Skating Rinks
Ice-skating in front of Amsterdam's most important squares… is there a better winter entertainment you can think of? Rent skates (or bring them with you), swirl in the magic winter setting and taste delicious winter treats afterwards. Put a tick in your winter "most important things to do" list. There are two main ice skating rinks in Amsterdam. The first is at the Leidseplein, and this one is opened until January 5th only. The second one is at the Museumplein – the spot where the city's most important museums are found. This skating rink is opened throughout winter, until March.
Hotels by the skating rinks:
Christmas Circus at the Royal Theatre Carre and Winter Circus Amsterdam
A visit to the circus is an activity that all the members of your family, and especially children, will love. So if you're a fan of circus performances, don't miss the World Winter Circus at the famous Royal Theatre Carre, December 19th, 2013 – January 5th, 2014. That's a great chance to see the best acts from the Circus Festivals in Paris, Monte Carlo, Beijing and Moscow.
Hotels by the Royal Theatre Carre:
InterContinental Hotel Amstel Amsterdam 5*
An alternative to the circus at the Royal Theatre Carre is a Winter Circus Amsterdam at the Arena Boulevard near the Heineken Music Hall (December 21st – January 5th). Classic circus marvels, trapeze flying, acrobatics and fun for the whole family.
There are few upscale hotels by the Heineken Music Hall, but here is a couple of convenient addresses:
Amsterdam Fashion Week
Amsterdam isn't usually thought of as a popular fashion destination. However, it still has something to entertain fashionistas with. The city's biannual fashion week is a magnet for those who want to be well-prepared for spring and summer fashion seasons. The AFW dates for 2014 are January 17th – 27th. Don't miss the exhibitions, fashion shows, workshops and of course discounts available at local boutiques during these 10 days. The professional catwalk shows will take place at the Westergasfabiek. Please visit the AFW website for full event programme.
Hotels close to the Westergasfabriek:
National Tulip Day
With tulip being one of the most important symbols of the Netherlands, it would be strange if there wouldn't exist a holiday dedicated to the flower. Surprisingly a bit, the holiday starts in winter, this year it's January 18th. A beautiful temporary tulip garden will be set up directly on Dam Square, and those who visit the garden on this day can pick the flower they like for free. Don't miss this festival of colours right on the main city square.
Hotels by the Dam Square:
Grauzone Festival
Amsterdam is known for its rich club life. Thousands of young travelers get to the city to experience this lively side of Amsterdam being. If you're one of those, one event we would highly recommend is the Grauzone Festival, which takes place January 31st at the Melkweg, a magnet for every clubber. Grauzone is a multi-disciplinary festival which brings together new wave music fans that are eager to learn about the new tendencies and new representatives of the genre. Apart from live performances, the festival will feature exhibitions and film screenings.
Hotels next to the Melkweg:
Dikker and Thijs Fenice Hotel 4*
St. Valentine's Day in Amsterdam
Romantic canals, quaint canal houses, fragrant flower stands and the after-Christmas winter charm make Amsterdam a perfect spot for your St. Valentine's Day trip. There are plenty of things you can do in the Dutch capital on the day. A canal boat tour for just the two of you, a horse carriage tour, ice skating hand in hand, a visit to one of the Michelin-starred restaurants at luxurious hotels (check out The Dylan or Okura) and even getting married for just one day at the Wed&Walk. Can't decide on the best ways to spend your day of romance? St. Valentine's package at one of the numerous Amsterdam hotels will release you from the tough choice. Here are just a few of such packages.
Romantic packages at Amsterdam hotels:
Amsterdam Romantic Package at Moevenpick Hotel Amsterdam 4*. Luxurious accommodation, 2-course dinner and a romantic gift included. From €190
Magnifique Romance package at Sofitel Legend the Grand Amsterdam 5*. A bottle of champagne, a romantic chocolate gift or flowers and in-room breakfast every morning included. From €367
Experience Romance package at the Pulitzer 5*. Breakfast each morning, a bottle of champagne and freshly cut flowers on your room. From €363