A romantic stay at Amsterdam hotel
Even though winter has just begun, St. Valentine's Day will arrive sooner than you can even imagine. That's why if you're on your way to choosing a hotel for a perfect proposal or just for a romantic weekend, we advise you making up your mind quicker. Amsterdam, with its stunning canals, beautiful historic buildings, peaceful parks and a wide range of activities for everyone, could be a perfect setting for the two. We suggest you the list of the most romantic hotels in Amsterdam and themed packages offered for you and the one you love.
The most romantic hotels and great romantic packages in Amsterdam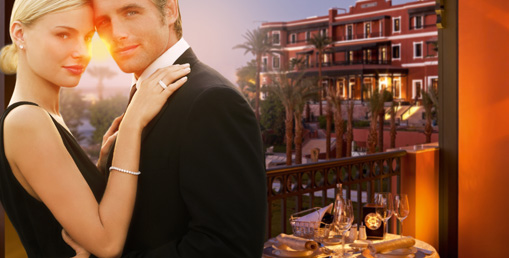 Sofitel Legend the Grand 5*
For those who prefer to follow the classic St. Valentine's Day schedule, Sofitel could be the right choice. The hotel boasts a perfect blend of history and palatial feel that your princess will appreciate. Mind that this was the hotel that Queen Beatrix had her wedding at. Rooms and public spaces sparkling with luxury and immaculacy, classic romantic hotel offers, including horse carriage and boat tours, follow the idea of a romantic week-end you're used to. Don't miss the Magnifique Romance package offered by the hotel.
The Magnifique Romance package at Sofitel includes:
Luxurious accommodation
A bottle of champagne upon arrival
Chocolates or flowers upon arrival
Breakfast served in your room each morning
Late check-out at 4 p.m.
Rates: from €316
The Dylan Amsterdam 4*
Location on the historic Keizersgracht canal, the atmosphere of intimacy, unique room designs to suite every taste and Michelin-starred restaurant offers make this hotel a perfect setting for an authentic Amsterdam-style experience. Don't let the fact that The Dylan doesn't possess a 5th star misguide you: the hotel is a world-known refuge for the celebrities who prefer some privacy. The Dylan's special package will help you organize a romantic stay with little effort.
"From Amsterdam, with love" package includes:
A one-night stay
A 4-course dinner at Restaurant Vinkeles (drinks excluded)
Special gift from the hotel
Buffet breakfast
Romantic turndown service
Rates: from €490
The College 4*
The College is one of the most unusual and most stylish hotels in Amsterdam that draws couples in search of new impressions. The boutique hotel is located in the fashionable Zuid district within a 19th century building that housed school. It's the College's award winning design with cozy fireplaces, high ceilings and winding staircases that make it a magnet mainly for couples. It is also known to host stylish wedding ceremonies at its beautiful salons. No special St. Valentine's packages have been announced yet, however, we know several great reasons for you to book this hotel for the event:
Chic and romantic atmosphere that combines historic charm and modern features
Great location in a fashionable neighborhood within the Museum Quarter
Each room boasts its own character. You can even stay in a former laboratory or the beautiful Duplex Suite
Wedding salons for intimate weddings or larger groups
Discounts when booking your room in advance and packages that include museum tickets
The Pulitzer 5*
The Pulitzer is a dream destination for those who prefer the best of everything, be it an haute cuisine gastronomic offer, canal views or facilities you won't find anywhere else. Located within 25 restored canal houses between the Keizersgracht and Prinsengracht, the hotel offers: rooms with canal views, boat and limousine tours, tranquil award-winning gardens that house an art gallery, a selection of freshest products at the restaurant Keizersgracht 238 and the Terra Vitis wines at its wine salon "De Apotheek". And of course, a romantic offer for the ones in love.
Experience Romance package at The Pulitzer includes:
A minimum two-night stay
Breakfast each morning
A bottle of chilled champagne and freshly cut flowers each morning
Rates from €363
Hilton Amsterdam 5*
If an intriguing story is what you miss in your relationship, welcome to Hilton Amsterdam! The story told by the hotel walls deserves a separate page in your love book. It is here that the famous couple, John Lennon and Yoko Ono, had their bed-in for peace in 1969, promoting world peace by spending the whole week in the hotel's presidential suite. You can book the suite, too, and spend a night in a room with John and Yoko's memorabilia and a king-size bed. But this will cost you no less than €1600. Instead, we advise you to book a Romantic package and enjoy picturesque views and some romantic extras.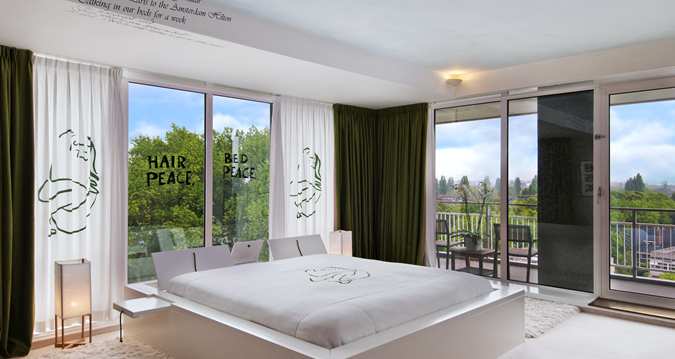 The Romance package at Hilton Amsterdam includes:
An overnight stay at the hotel
A bottle of sparkling wine
A culinary surprise
Breakfast in your room
Rates: from €216
Grand Hotel Amrath 5*
Steeped in history and a little dark romance, the Grand Hotel Amrath could be that special factor that makes your whole romantic trip to Amsterdam. The hotel's housed in the former Shipping House (Scheepvaarthuis) and is the perfect example of the Amsterdam School architecture. Stunning external and interior designs, beautiful stained glass decorations and views over the Amsterdam canals make it one of the most romantic spots in the whole city. No St. Valentine's package is available yet. But if you're spending your honeymoon in Amsterdam, you could like this "Yes I do" package offered by the hotel.
The "Yes I Do" package includes:
A bottle of champagne and sweets in your room
An extra luxurious bath package and beautiful red roses
A romantic night at the hotel
In-room breakfast
Access to the hotel's Spa and Wellness Centre
A map with six walking tours around Amsterdam
Rates: from €394
Dikker and Thijs Fenice Hotel 4*
If central location and canal views are your decision-makers, you could be perfectly satisfied with Dikker and Thijs Fenice. Its location on the Prinsengracht canal just around the corner from the Leidseplein makes your travel around Amsterdam really easy. Certain rooms boast stunning canal views and are considerably more spacious than the rooms offered at many other Amsterdam hotels. Spending a honeymoon in Amsterdam? Check the hotel's Honeymoon package then.
The Honeymoon package at Dikker and Thijs Fenice hotel includes:
Accommodation in a room with a Coco-mat bed
A bottle of Moët & Chandon Champagne
Flowers in your room
Breakfast served in your room
Tickets to the Holland Casino and a visit to the Diamond Factory