Discovering Amsterdam with hotels as a starting point
As a European capital, Amsterdam has lots of things to look at and places to visit. The list of attractions you could visit starts with the city canals, the Anne Frank House and the Van Gogh Museum and goes further to coffeeshops and the Amsterdam Zoo. If you can't decide where to go, hotels could arrange some curious excursions and visits for you and your friends. There are even some cultural packages offered. We give a short list of them for your convenience.
Cultural Amsterdam 2013 offer at Amsterdam Marriott hotel. From €250
Did you know that 2013 is a very special year for Amsterdam? This year the city's famous Rijksmuseum reopens while the beautiful Canal Rings celebrates its 400th anniversary. Indeed, Amsterdam will be filled with lots of festive events one should not miss. Marriott Amsterdam hotel, a member of the prestigious hotel and Tripadvisor's Travelers' Choice 2012 winner, provides you with the I Amsterdam City Card which gives you free access to 30 city museums, public transport and suggests making a boat tour around the canals. The Cultural Amsterdam package also includes deluxe accommodation and breakfast for two. Valid through the end of 2013.
I Amsterdam Package at Art Hotel Amsterdam. From €129
There is another hotel in Amsterdam that could provide you with the I Amsterdam card and accommodation, even at lower rates! The 4-star Art Hotel Amsterdam invites you to experience all the advantages of its I Amsterdam package which includes 2-night accommodation with extensive buffet breakfast, 1 welcome drink at the hotel's bar, free parking at the hotel's garage and the Card valid for 24 hours. Do you predict that 24 hours will not be enough for Amsterdam sightseeing? Then you could exchange the card for a 48-hour one for additional €10 only.
Hermitage Package and Sparkling Package at Grand Hotel Amrath. From €120
There are two cultural offers waiting for you at the 5-star Grand Hotel Amrath. The first suggests making a visit to the Hermitage Museum to see its impressionist exhibition and enjoy some extras like the welcoming drink, luxurious breakfast buffet and relaxation at the hotel's Spas (rates from €120). The second one, "The Sparkling Package", starts from €180 and invites you to the Gassan Diamonds Factory which is, by the way, in a walking distance from the hotel. Plus you get the extras mentioned in the previous package supplemented with a bottle of champagne and high tea at the hotel's bar.
Perfect Package, Brilliant Amsterdam and Rembrandt Package at Hotel Amsterdam De Roode Leeuw. From around €300
Hotel Amsterdam De Roode Leeuw suggests several variants on how to spend your time in the most enriching way in Amsterdam. You could either choose the Perfect Package which provides you with the I Amsterdam card, the Brilliant Amsterdam package to visit the diamond factory or the Rembrandt package for a visit to the Rijksmuseum. A minimum 2 night stay is required for all packages, therefore, your stay at this hotel will be no less than €300, depending on the room type, a number of nights and a package.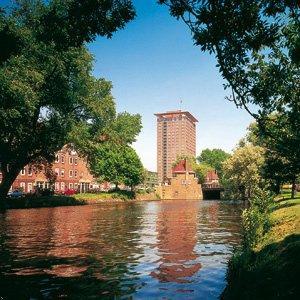 Brilliants and Biking at Hotel Okura. From €257
There are two offers available at Hotel Okura for the artistic souls, and whereas one is pretty standard – a visit to the diamond factory with accommodation from €270, the second one is rather unusual, though it does not refer to museum and gallery life. With the "Biking Package" at Okura you are invited to discover Amsterdam during a bicycle tour. This is an ecological and athletic alternative for a bus or a car tour. The offer includes accommodation, breakfast, bike rental and an Amsterdam info package.
Amsterdam Cruise Package at Moevenpick Hotel Amsterdam City Centre. From €259
Finally, we have a canal tour package – a real must when visiting Amsterdam. This package at the Moevenpick hotel includes not only a one-hour boat tour around the city canals, but also welcome fruits in your room, buffet breakfast, one beverage in a bar, one four-course welcome dinner, free use of the hotel's spa, free wireless internet and shuttle service. A two-night accommodation is required. As an alternative, you could take advantage of the hotel's Sparkling VIP package with a visit to the Gassan Diamond Centre and some other pleasant extras.
Lloyd Hotel and Cultural Embassy. Rates from €54
Lloyd hotel does not actually offer any cultural packages, however, we decided to include it in our list because of its curious interior, its location in a historic building and, of course, its Cultural Embassy which organizes various cultural events, exhibitions and presentations dedicated to Dutch culture. There is even an art library for the most curious guests. These days, for example, the Embassy hosts a reading marathon, a series of experimental gastronomy evenings called Steinbeisser, and an Artist Talks event to sharpen your public speaking skills. Admission to many events is free. However, note that the hotel rooms and services are not highly rated by its guests as the place seems to be in need of renovation and prices are higher than expected.
To summarize our story, the cultural offers at Amsterdam hotels are pretty standard and most of them include either an I Amsterdam card, a visit to the Rijksmuseum or a Diamond Factory. To enrich your visit to Amsterdam with new experiences, choose a canal boat tour at Moevenpick hotel or a biking tour at Okura. You choice also depends on the amount you've got: Art Hotel Amsterdam or Grand Hotel Amrath for less than €130 and Amsterdam Marriott, Moevenpick Hotel Amsterdam City Centre or Hotel Okura for accommodation for more than €200. For a completely new artistic experience with no accommodation included, go to the Lloyd hotel.