Best gastronomic experiences at Amsterdam hotels
Even though the Netherlands do not possess the status of the European culinary capital, like any other country it has its culinary traditions that are based on the way of life and the main occupation its residents have: fishing and farming. This country therefore meets you with a vast array of fish and vegetable dishes. If you want to add some traditional touch to your visit, check out some gastronomic packages that Amsterdam hotels offer.
Gourmand packages at Hotel Okura. From €316,50
The famed Okura hotel has several great restaurants, including the Michelin-starred ones. Hotel guests can enjoy some gourmand offers at two of them. The first is rather spendthrifty and will demand you some bucks to spend, however, it will make you feel like a king, with many things included in the package: accommodation in an executive room, breakfast in your room, a 60-minute Swedish relaxation massage at the Nagomi Spa, access to Nagomi Healh and Executive lounge, and, the main part: a glass of champagne at the Twenty Third Bar with impressive sky-high views, a six course dinner at the 2 Michelin-starred restaurant Ciel Bleu (wines included) and a bottle of champagne in your room. Price: from €1016.

The hotel's another restaurant, Serre, has recently received the Bib Gourmand recognition (for good cuisine at reasonable prices) from the prestigious Michelin guide. To celebrate this, the restaurant invites you to enjoy its Bib Gourmand package that includes a 1 night stay, breakfast in your room and a three course dinner at the restaurant. Rate: from €316,5. Parking is also included in both packages.
High Tea and Easter brunch at Grand Hotel Amrath. From €32.50
Although High Tea is basically an English tradition, nowadays many hotels offer this pleasant ceremony. With an expansive choice of traditional and herbal teas, finger sandwiches, scones, macaroons and cakes, this small but considerable culinary experience will bring you many minutes of joy. The offer is available from € 32.50. Reservation is required.
Also, if you happen to visit the hotel at Easter, do not miss its Easter brunch that takes place on the 31st of March and the 1st of April between 13.00 and 17.00 and starts with a glass of Prosecco. Your kids will be entertained with a special programme that includes photo frame making, lots of games, balloon figures, Pinocchio puppet theatre and more.
A visit to Jamie Oliver's restaurant from Lloyd Hotel. From €125
The Lloyd Hotel suggests you visiting a restaurant by the world famous chef and health life fighter Jamie Oliver – Fifteen, located in just a 10 minute walk from the hotel. The restaurant's menu is based on Mediterranean dishes – so if you are a fan of those, this offer will be to your liking. It includes a one or a two night stay at the hotel with breakfast, a three-course dinner at the Fifteen restaurant, and a pleasant bonus – Jamie's secret risotto recipe. You can also buy Oliver's latest book, "Jamies Food Revolution", with a 15% discount.
High Tea at NH Grand Hotel Krasnapolsky
Another place to enjoy the High Tea in Amsterdam is the five-star NH Grand Hotel Krasnapolsky. Lots of traditional selections are promised by the hotel: different tea varieties, muffins, scones, mascarpone, chocolates, sandwiches, petit fours etc. The ceremony starts with an aperitif. Reservations required.
Lunch and High Wine at the Dylan. From €350
The Dylan is a 4 star hotel in the historic centre of Amsterdam that boasts its Michelin-starred restaurant Vinkeles. But this is not the only place to enjoy great food and drinks at the hotel: there are also a Bar&Lounge, a stylish Brasserie OCCO, The Garden and other dining concepts waiting for you. Enjoy the culinary delights prepared by the Chef with the "Lunch in the City" package that includes accommodation, daily buffet breakfast and a Lunch Plate at the Brasserie. Wine connoisseurs will appreciate the High Wine package (from €405) and try the finest wines from the cellar accompanied by delicious bites. There are 4 different wines and 4 bites provided, plus buffet breakfast and accommodation at the hotel, of course.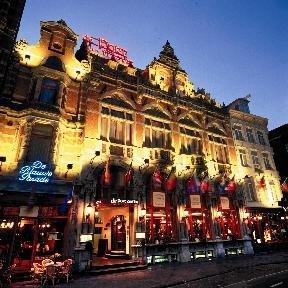 Royal High Tea and Jenever Tastings at Die Port Van Cleve. From €14,5
Do you appreciate good spirits or prefer aromatic tea? Die Port Van Cleve has some offers for the both types of guests. Its Royal High Tea at the brasserie will bring joy to those who follow an English tradition of an afternoon tea and those with a sweet tooth as for €22.5 you can taste tea of different kinds accompanied by delicious sandwiches or sweet items: brownies, raspberry cakes, scones and what not.
If you would like to learn more about the traditional Dutch drink Jenever, why not visit the Jenever tasting sessions at the hotel's Bar De Blauwe Parade where bartender will tell you about the history and characteristics of this drink. Jenever tasting follows this lecture. You are provided with typical Dutch snacks like rye bread with herring, pickles and cheese and canapes as well. The price starts at €14.5.
As a conclusion we can say that the choice of culinary hotel offers depends on what you are looking for: it can be an extensive experience with rooms, food and other extras provided, just like the one at Hotel Okura, the most expensive of which will cost you more than €1000. If you want just a small but delicious addition to your stay, try the offers at Die Port Van Cleve, NH Grand Hotel Krasnapolsky and Grand Hotel Amrath that start from €14.