5 tempting offers for those who celebrate Christmas in Amsterdam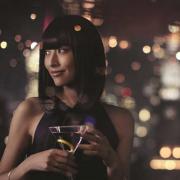 Winter is already at our doorsteps. Christmas will also be here pretty soon, even "before you can say Jack Robinson". Have you already decided where to spend these Christmas holidays? Many magic moments are waiting for those who chose Amsterdam for their winter festivities. The city turns colourful and brightens up with thousands of lights. Besides, its numerous markets are the perfect places to buy presents for your nearest and dearest ones. Amsterdam hotels have also prepared Christmas and New Year surprises to their guests. Festive dinners, gifts, bonuses and unusual surprises are waiting for those who choose the following Christmas packages.
Christmas and New Year 2013-2014 packages at Amsterdam hotels
Holiday Season Package at Moevenpick Amsterdam City Centre 4*. From €284
Due to its stunning location, Moevenpick hotel is the perfect starting point to discover Amsterdam from water. Almost all of the hotel rooms face the IJ bay, plus, the Centraal Station – the main transport hub of the city, is just a short ride from here. During the Christmas season there is also a Light Festival taking place in Amsterdam (6 December 2013 – 19 January 2014). The Canal parade is a part of the festival. And if you want to participate in this one, there is no better place to start with than Moevenpick.
The Holiday Season Package at Moevenpick hotel includes:
An overnight stay in a luxury hotel room
Late check-out until 2.00 pm
Christmas dinner on 25th/26th of December 2013 or the New Year's Eve buffet on the 31st of December 2013
A glass of welcome prosecco
Extensive breakfast
Free use of the hotel's Lifestyle Studio and sauna
Shuttle service to the Centraal Station (advance booking is required)
The offer is available from December 2nd 2013 till January 5th 2014.
New Year in Japanese style at Hotel Okura 5*. From €298
It's not a big surprise that in Japan they celebrate the New Year in a different way. How? Hotel Okura, the Amsterdam marvel that boasts 2 Michelin-starred restaurants and a bar at the 23rd floor, will tell you about this. The hotel has Japanese roots and an ambience that combines Western facilities with Eastern style. The New Year's party at Okura will correspond to the Japanese traditions. The lucky ones who book the Oshogatsu package will have an experience they won't forget.
The Oshogatsu package includes:
A 1, 2 or 3 night accommodation (from 29th to 31st of December 2013), with respective rates
The New Year's Eve family gala dinner with Japanese and Western dishes
Fun bingo game
Beautiful fireworks that can be enjoyed from the hotel's 23rd floor
Traditional breakfast at the Yamazato restaurant
New Year's visit to the Shinto Shrine that will be set up at the hotel
A rice cake performance by the hotel's chef
and much more
Amsterdam Light Festival package at Marriott Amsterdam 5* and Renaissance Amsterdam 5*. From €160
Once again, we invite you to the Amsterdam Light Festival – perhaps the most important winter event in the city. For 50 days, Amsterdam will turn into the world of light, decorated with light sculptures and projections by international artists. These pieces of art are great to discover both on land and from water. Marriott and Renaissance hotels will help you to do that in the most convenient way, with their "Amsterdam Light Festival" package, valid from December 10th 2013 till January 19th, 2014.
The Amsterdam Light Festival package includes:
A two night stay in a Deluxe or a Family room
Buffet breakfast
20% discounts in Midtown Grill or Koepelcafé
Evening canal boat tour of the city, including a glass of Glühwein
Christmas package at Hilton Amsterdam 5*. From €189
Celebrate your Christmas in the atmosphere of luxury with Hilton Amsterdam hotel. Its waterside location guarantees unforgettable views on the Christmas Amsterdam while the history behind its walls will make you feel a part of something grand. Yes, it was here that John Lennon and Yoko Ono has their 1969 bed-in for peace. The Christmas offer at Hilton is available for two days only, from 25th till 26th of December 2013. Hurry up!
The Christmas offer at Hilton Amsterdam includes:
An overnight stay in a Deluxe room
A sumptuous Christmas breakfast
A 4-course Christmas Dinner at Roberto's Restaurant
Free parking
Special Christmas rates at Conservatorium 5*. From €295
Conservatorium is a historic Amsterdam hotel that benefits from several things: the historic building that housed Sweelinck Conservatory of Music and location in the Museum district, minutes from the most highly visited Amsterdam museums: The Rijksmuseum, the Van Gogh Museum, the Stedelijk Museum, and the Royal Concertgebouw. The hotel also houses the Akasha Holistic Centre which spans over 1000 sq.meters and is the paradise for every exhausted soul.
For this Christmas, the hotel has prepared you a limited December offer – Deluxe Room accommodation for €295, including breakfast. Normally rates start from approx. €336.