Discounts and best value offers at Amsterdam hotels this autumn
New season means new deals. This autumn you can visit Amsterdam without worrying about the price of your stay. Even the first class hotels launch special offers and provide discounts that could save you a considerable amount of money. Add this to numerous events that take place in Amsterdam this season – and you'll discover that it is one of the best destinations for your after-summer adventures. See the best autumn 2013 deals at Amsterdam hotels.
Discounts and deals available at Amsterdam hotels in autumn 2013
Advance Purchase deal at Hilton Amsterdam 5*. Save 20%
Advance purchase rate is what many Amsterdam hotels offer to the early planners. And so does Hilton Amsterdam – one of the best known city addresses. Book Hilton if you want to add a historic touch to your stay: this was the place where John Lennon and Yoko Ono had their "Bed-in for peace". The hotel's located not quite in the city center, but it's Amsterdam, so everything's pretty close!
There are several reasons to choose Hilton:
Book at least seven days in advance and save up to 20% off the best available rate. Valid till October 14th 2013
Check out John's and Yoko's suite – yes, the one that the famous couple stayed at!
Enjoy peaceful canal views and attractions such as the Rijksmuseum, the Van Gogh Museum and the Vondelpark in a walking distance
An Early Saver rate is available for those who prefer to book even earlier – at least 90 days in advance. Save up to 30% off the Bed and Breakfast rates. Valid until 9 March 2014
Senior Savings at Doubletree by Hilton Hotel Amsterdam Centraal Station 4*. Minimum 5% discount
Not many hotels care about the specific needs of an older traveler. But Doubletree does. This autumn travelers who are 65 and older can enjoy considerable discounts at DoubleTree by Hilton Amsterdam Centraal Station. Note that the hotel's location adjacent to the Station is perfect for moving around the city. And this is very important for the elderly people.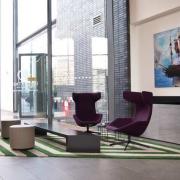 The advantages of the hotel are:
A minimum 5% discount off the best available rate for persons aged 65 or older. Book before 25th November 2013
Location by the Centraal Station right in the heart of the city
Stunning canal views from the Sky Lounge on the 11th floor and some rooms
Apple iMac computers and free WiFi in every hotel room
Save on your family stay: children under 18 stay for free in their parents' and grandparents' room
Second person stays for free at the Banks Mansion 4*. Rates from approx. €189
The early bookers can make a very special gift to their friend or a member of their family – a visit to Amsterdam. During the period from November 24th 2013 till March 23rd 2014 a second person that arrives to the hotel with you stays for free. A great opportunity to enjoy the city during the winter season.
There are several other reasons to choose the Banks Mansion:
Location by one of the oldest Amsterdam canals – the Herengracht. Views on the canal from several rooms
One of the Top Ten hotels in the Netherlands according to Tripadvisor
The all-inclusive concept: mini-bars, snacks in the lobby, internet access, the use of iPads – everything's included in your room rate
Cool art deco design and homely atmosphere
4th night for free at Hotel Pulitzer 5*. Rates from €309
The luxurious atmosphere of Hotel Pulitzer, its unprecedented offers and the highest level of service will make you want to stay a little bit longer. Thanks to the hotel's "A Taste of Luxury" offer, you can make this dream come true. Book four consecutive nights at the hotel and pay for three nights only.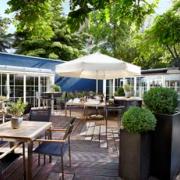 The things that guarantee an unforgettable stay at the Pulitzer:
A Taste of Luxury offer: 4th night for free. From €309. Breakfast for two guests is included
Save on your family holidays: 50% off the second room and free meals for kids
An unbeaten location between the oldest Amsterdam canals: the Prinsengracht and the Keizersgracht
The hotel's comprised of 25 17th and 18th century buildings and houses a wine salon with interiors dating back to the 1800s
Charming gardens with an art gallery on the hotel's premises
20% off suite rates at Swissotel Amsterdam 4*. From approx. €250
Those planning a longer stay in Amsterdam won't find a better type of accommodation than suites. This Autumn Swissotel Amsterdam, one of the most stylish city hotels, offers you considerable savings when staying in one of its suites. Book minimum 2 nights and enjoy a 20% discount. Note the charged amount is non-refundable. The offer is valid for stays between September 2nd and December 23rd 2013.
Why choose Swissotel:
Apart from 20% discounts on suite rates, there are long stay discounts offered this autumn: Stay 2 save 5%, Stay 3 save 10%, Stay 4 save 15%
Location by the Dam Square – the most central Amsterdam attraction
Spacious rooms with Nespresso machines, comfy beds and free WiFi
Free access to the hotel's fitness facility
Autumn City Break at Moevenpick Amsterdam 4*. From €118
Moevenpick Amsterdam City Centre promises one great thing that you will miss at other hotels: harbor views from each room. The hotel's location by the river IJ makes your travel around the city easy whatever means of transport you choose. Start a boat tour at the ship terminal opposite the hotel or take a free shuttle bus to the Centraal Station and enjoy a walking tour or a train ride from there. Moevenpick's autumn deal is a great argument for a stay at the hotel this season.
Choose Moevenpick and enjoy:
20% discount for a 2-night stay and a 30% discount for a 3-night stay at the hotel
Magnificent views from your room and easy access to the most central attractions of Amsterdam
Free shuttle bus to the Centraal Station, free WiFi and free entrance to the hotel's fitness and wellness areas for each guest
Successful meetings at one of 12 flexible meeting rooms with modern equipment and natural daylight